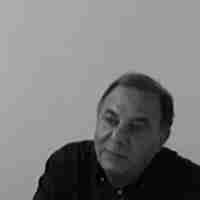 Born in L'Aquila in September 1955, Pierpaolo Mancinelli showed considerable interest in art, design and music as a young man. He attended the cultural environments of Aquila from the Conservatory of Music to the Academy of Fine Arts, collaborated as a sound technician in the university theater. In the 70s he founded the "Contemporanea" cultural association with other friends, a meeting place where cultural events are organized ranging from music, theater, literature and painting.
Self-taught begins to paint with traditional techniques by experimenting with various forms of expression: from oil painting, screen printing, various techniques showing an interest in knowledge of the various expressive possibilities and the use of various materials. In the 1980s he won a competition in the Abruzzo region as a computer programmer. After a few years he founded an IT company together with two engineers and an IT expert, "System 4", which deals with software development.
In the 1990s he won a scholarship for IT experts launched by Formez and moved to Rome for 18 months. Returning to L'Aquila, he gave vent to his first passion and opened a music shop, Note e Pause.
In 2000 he opened a designer furniture store in the historic center of L'Aquila (unfortunately closed with the earthquake) and in this context he began to study and deepen the possibilities offered by the computer in the artistic field and since then he has been working with the computer and conceives digital works which are then printed on artistic canvas. The goal of these latest works is to try to tell a concept or an emotion through a new language in the field of art, a modern language built with the help of the same technology told in the works where the graphic sign becomes the protagonist. All digital works are returned on a traditional support: the artistic canvas. The works of the Urban Map series represent a view from above of contemporary urban complexity, highlighting its fragility as a complex reality. In several of them the shadow of a bird symbolizes the hope of an economic and cultural restart of the Eagle.