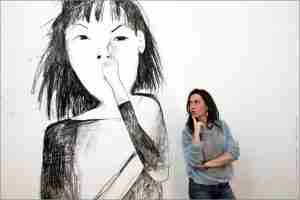 Martina Vanda's black and white domestic irony dialogues with the colorful watercolor of the award-winning Italian cartoonist Gipi (pseudonym of Gian Alfonso Pacinotti). The protagonist of the works of both is a girl who interprets, in different ways, the dichotomy of the wall-bridge subject.
In Gipi's manifesto "Beyond the border" a wall with barbed wire is surmounted by a huge book, on which stands a slim, light female figure, who scrutinizes the horizon and the city in the distance. A reference to the power of reading, imagination and imagination, capable of overcoming any border. Gipi's hand, which arrives here with light brush strokes, tells us in a single image a sadly known story of wars and political, cultural and economic divisions, bringing emotions to our hearts on tiptoe. The result is a communicative power that is far from the violent power of news and television programs, and which moves for its poetic truth.
Martina Vanda's two drawings instead feature a graphic line made in china, for an immediate, direct, lightning-like impact, which tries to capture the quick glances of passers-by, residents and the many young people who live in Piazza Chiarino in the evening. On the left, the work "A wonderful life" is a playful, sarcastic drawing, in which a girl stands in a "hamster" position and supports herself, like a bridge between two walls, with her hands and feet pressing the ends of the frame .
The image, as for Gipi, deals with the boundaries, but this time they are those of the white sheet, always too narrow to contain imagination and fantasy. In Vanda's other work "What a wonderful life" instead the (same?) Girl sleeps, exhausted, (perhaps after trying to enlarge the white sheet?), Wrapped under a blanket that looks like an abstract hilly landscape. This scaffolding is edited by the Polarville Bookshop (L'Aquila).