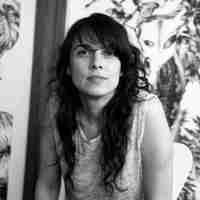 Tatiana Arocha is a visual artist from Bogota, Colombia and lives in Brooklyn, New York. Her art combines a passion for storytelling, childish or intellectual, with an incredible attention to detail and an aesthetic sense developed over the years as a graphic designer. Daughter of an anthropologist and environmentalist, from an early age she was able to see up close the richness of the rain forests and the bio-political problems related to their exploitation.
The jaguar, whose strength of gaze emerges, is the protagonist of her work for L'Aquila. Symbol of tenacity and ferocity, the animal is hidden among the vegetation and observes us, forcing us to return in relation to the place where we are, the power of nature and the challenges to be faced daily.
Her illustrations were used in clothing for Burton Snowboards and for the designer Julieta Suarez. She has also produced design product lines for Nookart, Australia and Lojja, Colombia. Following a commission from SundanceTV in which she created an animation based on her illustration series entitled "Rainforest Sanctuary", Yale University exhibited its work in conjunction with the International Society of Tropical Foresters Conference and the subsequent United Nations Conference hosted on Environmental Governance and Democracy.
She broadened her horizons with the direction of music videos for Funkstörung, Mocean Worker and Tosca; her photographs have been published in magazines such as Fader, XXL and the cover of The Village Voice. She also recently founded Servicio-Ejecutivo, an online platform that occasionally turns into an art gallery in Williamsburg, Brooklyn, specializing in emerging artists. She has curated over 80 exhibitions in the past ten years.
ArtBridge Exhibitions:

Change!