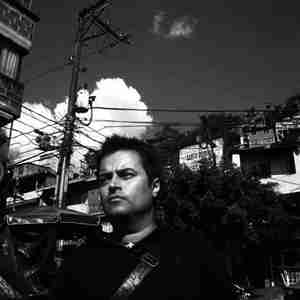 Alexis Duque obtained his first degree in Fine Arts from the University of Antioquia, Colombia. His work has been exhibited in numerous locations, including: El Museo del Barrio, The Drawing Center and Praxis International Gallery in New York; Museum of Latin American Art (MOLAA), Long Beach, CA; Contemporary Champion, Austin, TX; The B. Dow Alden Museum of Science and Art, Midland, MI; RudolfV Gallery, Amsterdam, the Netherlands and Oxholm Gallery in Copenhagen, Denmark. He currently lives and works in New York. Alexis Duque produces paintings and drawings of buildings and domestic interiors stacked and conglomerates in absurd impossible compositions.
His psychedelic precision and his perspective tricks find their point in the works of M.C. Escher: houses, lounges, train tracks, and alleys wind up masses on which new worlds or impossible skyscrapers seem to collapse, like in a black hole. His views from above, however, are inspired by the poetics of Italian futurists, such as cities seen from airplanes.
Through a playful stacking, Duque rearranges his fantastic cities to examine the formal properties of architecture. The chaotic and inevitable processes of urbanization in our globalized and increasingly populated world are the fulcrum of its most recent production. His paintings highlight the duality between chaos and saturation of everyday objects, enhanced by the total absence of human beings submissive in the natural landscape. Between utopian narrative and post-apocalyptic vision, in "Asteroid" the artist creates with lines subtle and precise a complex composition that returns the architectural claustrophobia of the great metropolises.
ArtBridge Exhibitions:

Change!