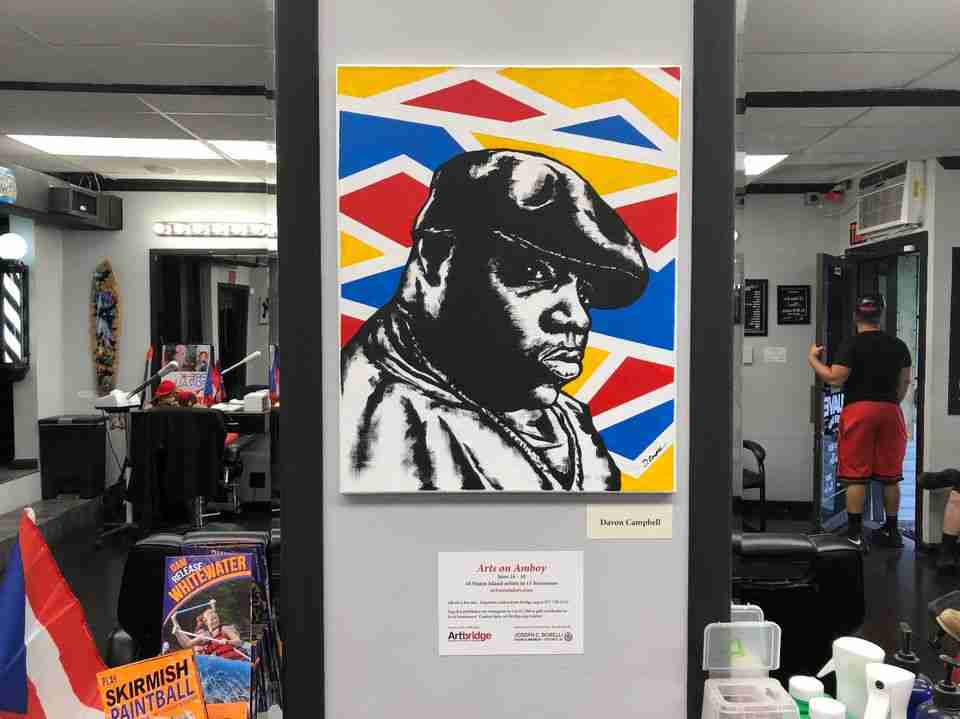 15 May

Arts on Amboy, Opening Reception

Friday May 30, 2018 at Nucci's South, 5:30pm–7:30pm

 

From June 3 to June 23, 2018, ArtBridge presents Arts on Amboy — a showcase of 31 Staten Island artists and 76 artworks in 11 local businesses, sponsored by Councilmember Joseph Borelli.

All artwork is for sale, with 100% of proceeds going to the artist. Sales inquiries: amboy@art-bridge.org or 646-450-1463

Arts on Amboy is an art fair for the community, to promote both local artists and businesses in Tottenville, Staten Island.  We are thrilled to present the work of 31 local artists (and 76 of their artworks), whom we think well-represent the community of Staten Island artists — from career artists, to weekend hobbyists, to talented youth.

Missy Brown is a painter. Her painting series Kara depicts the mundane scene of a woman's life; the detailed facial expression and well-structured body language created a vivid character for the audiences. Who is she? Why does she seem so familiar to us? This conflict between the strange and the familiar makes the work come alive within our blurred memory.
Jen Seggio is a local author and illustrator. She is currently working on her first children's book, which takes place on Staten Island. Escape From The Moon reminds us of the beautiful dreams we once had in childhood, that imagination beyond the impossibilities that later constrained our adult lives.
Sam Cillo is a designer and artist. Weightless is a triptych which combines dancing performance, photography, and painting. Through presenting the complicated body movement, the triptych's flat medium is transferred to a multi-dimensional space — at once mysterious and beyond the constraints of gravity.

Arts on Amboy intends to build a platform for local artists to find a voice, positively impacting their communities both through their art, and through the attention their work can create for local businesses.

We are thoroughly appreciative of the entire community of Staten Island artists for making this project happen; and also the office of Councilmember Joseph Borelli, for providing funding.

Tag the exhibition on social media to win $1,500 in gift certificates to these 11 businesses.
Overview:
ArtBridge is giving away $1,500 in gift certificates to the 11 businesses participating in Arts on Amboy!  A map and list of these 11 is here.
Step 1: Post a photo of artwork(s) from our exhibition on Instagram, Twitter, or Facebook.
Step 2: Disclose (or tag) the businesses in which the photo was taken in.
Step 3: Use these two tags: #ArtsOnAmboy and #artbridge
You will then instantly win a certificate from that business; or, if those have run out, certificates at one of the 10 other businesses (your choice). Winners will be based solely on the time that they posted — first come, first serve, until the certificates are all claimed.
ArtBridge will list/tag winners (at least) once every 48 hours on Instagram and Facebook, and we'll then connect with you to send you your certificate within a week of you winning it. We'll also post winners and update our remaining quantities on this page.
1 certificate per person, max.
Gift Certificates:
Aunt Butchies: three $50 certificates
Buds and Blooms Florist: two $50 certificates
Don Cesar Restaurant and Bar: four $50 certificates
I Got Balls: two $50 certificates
Mike's Bike Shop: two $50 certificates
New Horizon Decor: two $50 certificates
Nucci's South: four $50 certificates
Richmond Valley Vet: two $100 certificates
Steph's Creative Corner: two $50 certificates
Suave Barber Shop: two $50 certificates
Villa Monte Pizzeria: three $50 certificates
Terms & Conditions:
— The 31 artists participating in Arts on Amboy are not eligible to enter, nor are employees of ArtBridge.
— Instagram and Twitter profiles must be public to be eligible. Facebook does not.
— Must use both #ArtBridge and #ArtsonAmboy hashtags on posts to be eligible, and also disclose the business in which the photo was taken.
— Limit of one gift certificate per person.
— Any person found to be using multiple accounts to submit additional entries will be disqualified.
— Gift certificates only available until awarded. Contest begins on June 3 at 9:00am and ends on June 22 at 11:59pm. Any unawarded gift certificates will be returned to the granting businesses at the conclusion of the contest.
— No purchase necessary to enter or win, and no purchase will improve chances of winning.
— Entries eligible from individuals who are at least thirteen (13) years old at time of entry.
— Winners are responsible for taxes on their gift certificates, if any.
— This contest is organized by ArtBridge Projects, a 501(c)(3) nonprofit organization located at 430 W 24th St Suite 1EE, New York, NY 10001.
— For questions or to receive a winners list, e-mail amboy@art-bridge.org or call 646-450-1463.
— Contest is in no way sponsored, endorsed, or administered by, or associated with Instagram, Facebook, or Twitter.
— Each entrant using #ArtBridge and #ArtsonAmboy hashtags expressly waives and releases ArtBridge, Instagram, Facebook, and Twitter from any claim relating to the administration of the contest.